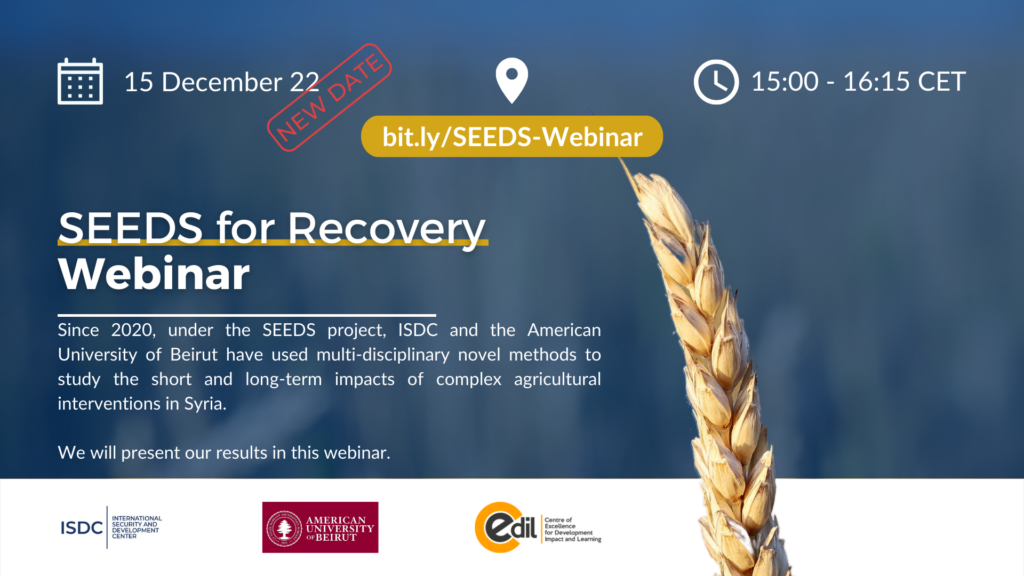 ---
Do agricultural interventions have a positive impact on food security and nutrition in conflict settings? Since 2020, under the SEEDS project, ISDC – International Security and Development Center and the American University of Beirut have used multi-disciplinary novel methods to study the short- and long-term impacts of complex agricultural interventions in Syria.
In this webinar, we will share the findings on if and how the distribution of emergency seeds and tool kits strengthen food security of households living in protracted humanitarian settings. Using a novel 4-wave panel dataset in Syria, we test if the program is sustainable after 4 years. Moreover, heterogeneous effects are analyzed to understand the role of conflict in moderating treatment impacts. Finally, using satellite data and deep learning, we estimate the impact of the programme on crop productivity, highlighting the use of novel data and methods to complement survey data in hard-to-reach settings.
Building on the results of our research, we will share the implications of our findings for policymakers and practitioners. With this, webinar participants will gain new and in-depth knowledge of the strengths and limitations of agricultural interventions.
You can find the full recording of the webinar on CEDIL's YouTube channel.