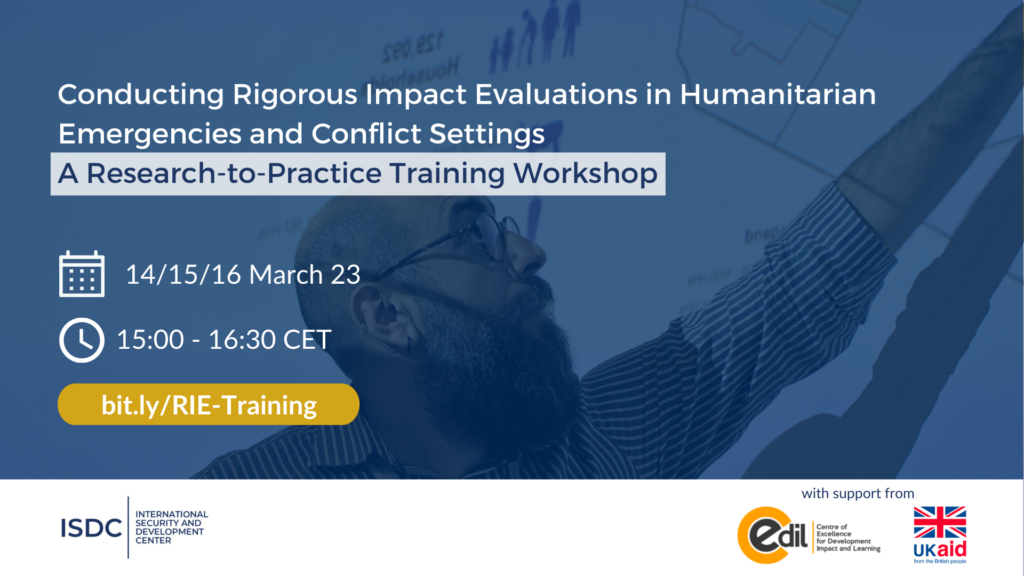 Many consider Rigorous Impact Evaluations (RIEs) to be the gold standard in evaluating interventions. We agree. However, various methodological, ethical, and practical challenges to conducting RIEs in Humanitarian Emergencies and Conflict Settings (HECS) have raised questions about how well traditional RIE methods are well-suited to such settings.
ISDC – International Security and Development Center has developed expertise in doing research in conflict settings and has come to a conclusion: Conducting RIEs in humanitarian emergencies and conflict settings is possible!
To share this expertise and encourage practitioners, implementers, and M&E officers to broaden their approach to RIEs, we're offering free training sessions on the 14, 15, and 16 March 2023. Our goal is to provide a general overview of the tools and data needed to conduct the RIEs in HECS, to discuss the practical and theoretical solutions to challenges in designing and conducting RIEs in HECS, and strengthen the research-practice collaboration on learning in HECS.
Our training will mainly address three topics:
Introduction to the rigorous impact evaluation and the challenges in conducting them in HECS using conventional research approaches;
Solutions to the methodological, ethical, and practical challenges to conducting Rigorous Impact Evaluation in HECS
Incorporating lessons learnt from impact evaluations into future programming
Participants will gain valuable knowledge of how we approach RIEs in HECS, both through academic approaches and practical cooperation with our partners. The training modules will be mainly based on the CEDIL-funded joint work between the American University of Beirut and ISDC that studies the long-term impacts of complex interventions in Syria, as well as ISDC's long-term experience conducting RIEs with a range of development actors (FAO, IOM, Mercy Corps, OCHA, WFP, UNHCR).
Experts: Prof. Tilman Brück; Dr. Ghassan Baliki; Dr. Aysegül Kayaoglu; Melodie Daccache
The training is supported by the Center of Excellence in Development and Impact Learning (CEDIL) and UK Aid.