Please join us for the final installment of the Home Gardens for Resilience and Recovery (HG4RR) Webinar Series: Home Gardening under challenging conditions – Concern's experience from Niger and Bangladesh, Tuesday, 15 June 2021, 14:00-15:00 Central European Summer Time.
We will be joined by three field experts from Concern Worldwide.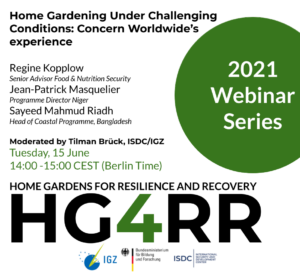 Regine Kopplow, Senior Advisor for Food and Nutrition Security, will introduce Concern Worldwide and the organization's experience promoting of home gardening across the globe.
Jean-Patrick Masquelier, Programme Director for Concern Worldwide Niger, will speak about Concern's work in Diffa Region of Niger, highlighting how home gardens can help overcome the challenges displaced populations face in accessing diverse, nutrient-rich foods.
Sayeed Mahmud Riadh, Head of Concern's Coastal Programme based in Bangladesh, will talk about Concern's work in coastal Bangladesh where home gardens are promoted as a way to reduce vulnerability, enhance resilience of coastal communities, and help prepare for and adapt to shocks induced by climate change.
There will be a chance for participants to ask questions to the guest speakers during a lively Q&A session following their presentations, moderated by Dr. Tilman Brück will follow.