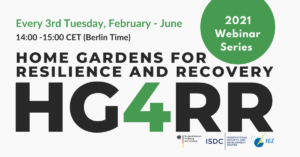 Join us for the third webinar in the HG4RR Webinar Series on April 20th, 14:00-15:00 CET. We will be joined by Drs. Hadijah Mbwana and Victoria Gowele, from the Department of Food Technology, Nutrition and Consumer Sciences at Sokoine University of Agriculture (SUA) in Morogoro, Tanzania. Dr. Mbwana's presentation, "Seasonal and agro-climatic variations in kitchen gardening: Impact on household dietary diversity in rural Tanzania" is based on a study that monitored households in different agro-climatic regions in Tanzania during rainy and dry seasons and observed the complex influence of location and season on kitchen gardening participation and household dietary diversity. Dr. Gowele will focus on how the promotion of green leafy vegetables through the use of simple gardening technologies can enhance dietary diversity among school children from farming households in her presentation: "Pocket garden as a potential strategy to vegetable production and improvement in micronutrient status: Lessons from field intervention in rural Tanzania."
Dr. Tilman Brück of ISDC/IGZ will moderate a Q&A session with the audience. The HG4RR webinar series is open to all. Click here to register. 
As with our past webinars, this event will be streamed on the ISDC Youtube Channel.