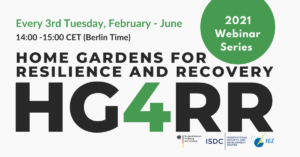 HG4RR Webinar Series on May 18th, 14:00-15:00 CEST. We will be joined by nutrition specialist Sweta Banerjee and food activist Anshuman Das from Welthungerhilfe (WHH) India Country programme. They will be presenting "Nutrition from garden to plate: improving diets through sustainable access to safe and diverse food."
Dr. Tilman Brück of ISDC/IGZ will moderate a Q&A session with the audience. The HG4RR webinar series is open to all. Click here to register. 
As with our past webinars, this event will be streamed on the ISDC Youtube Channel.