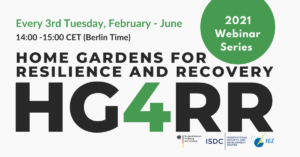 Note : l'interprétation en français sera disponible pour ce webinaire.
Join us for "The Permagarden Pathway to Resilience & Food Security: Lessons in Scaling Up from Nepal and Uganda" on 16 March 14:00-15:00 CET (Berlin Time). This webinar, the second in the HG4RR 2021 Webinar Series, is co-hosted with the USAID Bureau for Humanitarian Assistance-funded SCALE Award.
International organizations working in both stable and humanitarian contexts promote home garden projects as part of their agriculture, nutrition or multi-sectoral programming. Most organizations have their own approaches to garden implementation, training participants, and scaling up while maintaining quality and sustainability of the gardens. During this webinar you will learn about one garden approach, the Permagarden Method, and hear from Mercy Corps and African Women Rising (AWR) as they share challenges, successes, and evidence around implementing and scaling permagardensin in different contexts. Mercy Corps will share their experience from implementing the USAID-funded Program with South Sudanese refugees in the Palabek Refugee Settlement in Northern Uganda. We will invite participants to share their experiences with maintaining and scaling quality gardens, and collate useful resources and tools to share post-webinar.
Dr. Tilman Brück of ISDC/IGZ will moderate the panel discussion with presenters Abby Love (SCALE Award), Sagar Pokharel (Mercy Corps), Linda Eckerbom Cole (AWR), and Andrea Mottram (Mercy Corps) and Q&A session with the audience.The HG4RR webinar series is open to all. Click here to register. 
As with our past webinars, this event will be streamed on the ISDC Youtube Channel.